Figuring out how much it costs to run your eCommerce site is an important factor for a successful business. Before jumping into setting up your store, you should know what kind of costs you can expect. What do you need to calculate in when you want to set up your business and how much will it cost to run it? Your eCommerce costs affect a lot of decisions like how much inventory do you want to hold, how you want to price your products and how much you can spend on marketing. The costs also help you understand, how much you need to sell to make a profit.
I'll explain the most common costs that are associated with starting and running an eCommerce business. Keep in mind, that the costs can vary based on what you sell and what kind of shop you run.
Set-Up Costs

Domain Name
Logo
Web Hosting
Hosted Platform Plans
Theme
Business License
Sample Purchases

Additional Costs

Apps and Plugins
G Suite
Inventory
Payment Processing Fees
Email Marketing Software
Packaging Supplies
Shipping Supplies
Ad Spend
Unexpected Costs
Set-Up Costs
There are a couple of costs you need to consider when you first set-up your business. Some of them are one time payments, while others have to be paid monthly or yearly,
Domain Name: $10 – $20/year
You'll need to decide on a business name. When you came up with a business name, check if the matching domain name is still available. Finding a good .com domain can be tricky. You can always try to add things like "store", "shop", "usa" or "world" behind your business name and see if that domain is available instead. Also, make sure that there are no trademarks registered for your business name idea. Alternatively, you could use a different URL extension like .co. GoDaddy.com and Namecheap.com are two sites I use to check for domain availability and to purchase the name.
Logo: $0 – $100
In addition to your business name, you need to decide on a logo. It could be a graphic, or it could just be your brand name in a nice font. Keep in mind where you want to place your logo. For example, if you want to print it on your product label and your product is rather small, there won't be much space for a big elaborate logo. You can design the logo yourself. Alternatively, you can hire a designer on 99designs or fiverr.

Web Hosting: $3 – $35/month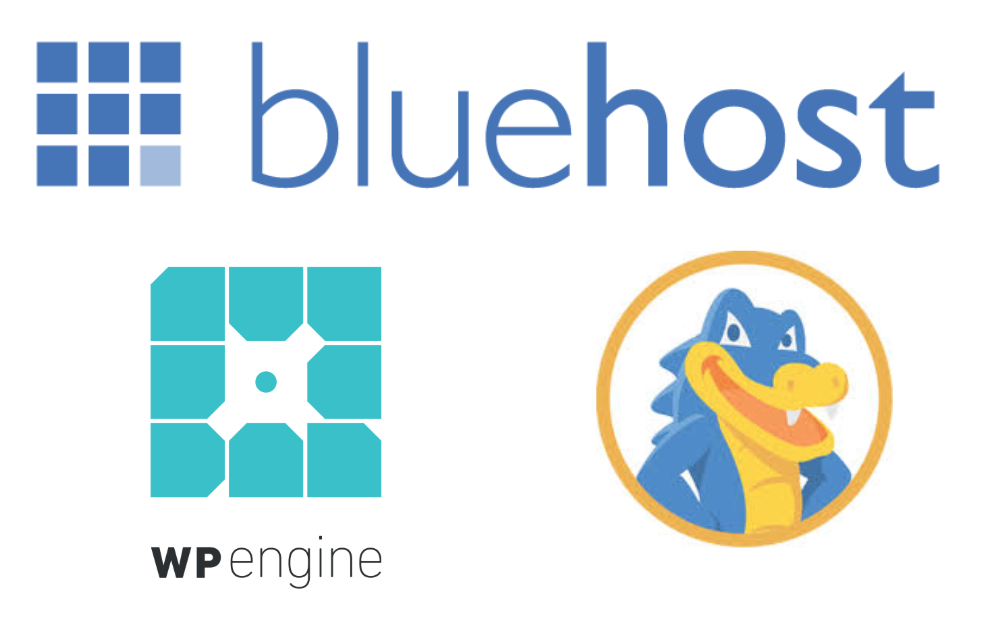 If you want to create a store with WordPress, you'll need web hosting. Web hosting is a service some businesses provide so your website can actually be seen on the internet. It's where your website lives. The domain name is the address of your store while hosting is its house. Some reputable web hosters are WPengine, Bluehost, and Hostgator.

Hosted Platform Plans: $5 – $50/month
If you want to create a store on a hosted platform, like Shopify or BigCommerce, you'll need to choose a monthly plan. The advantage of using a hosted platform is that you don't need to get web hosting. Additionally, you don't have to worry about running updates. The prices range based on the platform. I usually use Shopify for my online shops. Their plan starts at $29/month. Shopify also offers a 14-day free trial if you want to test the platform.
Here is an overview of what other managed platforms cost:
If you're wondering if Shopify is the right platform for you, I wrote about my personal Shopify pros and cons.
Theme: $0-250
To make your store stand out, you need to choose an eCommerce theme or template that fits your brand. There are several websites offering themes for different platforms like Woocommerce or Shopify. Some of my favorites are ThemeForest, ShopifyThemes, and Template Monster.
I recommend finding a theme that already looks very close to what you imagine your store to look like. That way you don't need to make a lot of changes. Alternatively, you can always do some edits yourself or find a programmer to do it for you.
Business License: Varies
To run a successful business, you need to register and get a business license. The price depends on your state and city. Make sure to do some research or talk to a lawyer to find out all the requirements you need to meet.
Sample Purchases: Varies
When you create a product with the help of a manufacturer or sell an existing product, it's important to request samples. In fact, I recommend ordering samples even if you decide to dropship. Make sure that the quality is what you and your customers expect. Checking samples is important before you place larger orders.
Additional Costs
Besides the setup costs for your online store, there are some other factors you need to consider when running and growing your business, Some of them are fixed costs. Fixed costs are needed to run the business and are pretty much the same each month. Other costs are variable costs. These are costs that are not necessary to run your business. They're nice-to-haves and vary each month.
Apps and Plugins: $0-50/month
Once you have your online shop set up you might want to add some additional adds and plugins. There are apps that can help you get your shop to the next level. You might need a plugin to create a contact form, for SEO help or a live chat. There are free as well as paid options.
G Suite: $5/month
G Suite is a set of productivity tools created by Google including Drive, Docs and Gmail.
Inventory: Varies
The amount of inventory you have to hold depends on a couple of things. It depends on how much the supplier requires you to buy, how much you're selling and if you ship the product yourself, drop-ship or use a third-party fulfillment service.
Payment Processing Fees: Varies
When you accept payments through your online shop, you need to count in the payment processing fees. It's usually a percentage plus a few cents. For Shopify, it's 2.9% + 0.3 cents transaction fee and a 2% transaction fee unless you use Shopify payment. Etsy charges a 5% transaction fee.
Email Marketing Software: $0 – $50/month
To keep your customers updated about sales, new products, and other special offers, you should set up an email list. The monthly fee depends on the software and might increase as your email list grows. The two popular E-Mail marketing platforms are Klaviyo and MailChimp 🙉.
Packaging Supplies: Varies
Don't only focus your marketing and branding on your online presence. Give your customers a seamless buying experience with beautiful packaging. You can either buy packaging online or from stores like Office Depot or Michaels. Alternatively, you can create branded packaging like wrapping paper or boxes through sites like Fantastapack, Jukeboxprint or Boxup. To get started, you could also create a combination of the two options. One way to create personalized packaging without breaking the bank is to purchase boxes off Amazon and add branded stickers from Stickermule.
Shipping Supplies: Varies
When you're ready to send your customers their orders, you have to consider how you want to ship it to them, The pricing varies and depends on how fast you want your customers to receive the package, who you ship with and the size and weight of the shipping boxes or envelopes. Don't be afraid to call around and find the right courier with the best prices for your type of business.
Ad Spend: Varies
You can drive traffic to your store through different channels. One of them is by running ads. You can run ads on Google or on social media platforms like Facebook. Marketplaces like Etsy have their own native ads platform.
Unexpected Costs 💰
No matter how much you're trying to count in all expenses, there are just things you can't plan for. It's important to have an emergency fund for any unexpected expenses. You might run into quality problems or have to issue large amounts of refunds. Just be prepared so you still have enough funds to run your day to day operations.
Invest in Accounting Software
Keeping track of all your expenses can be a lot of work. Accounting software like Quickbooks and Xero makes this process way easier. The software does the work for you so you know exactly where your money is going. It also makes filing your taxes less painful.
Summing Up
These are some expenses you should consider when starting your business. There are costs that come up when you initially want to set-up your business and expenses that are needed to run and grow your company. There might be some other expenses depending on what type of business you have and how you want to run it. Hopefully, this gave you an idea of what you can expect when you start your eCommerce business.